SHORT STIRLING
Armando Vieira - GPPGYN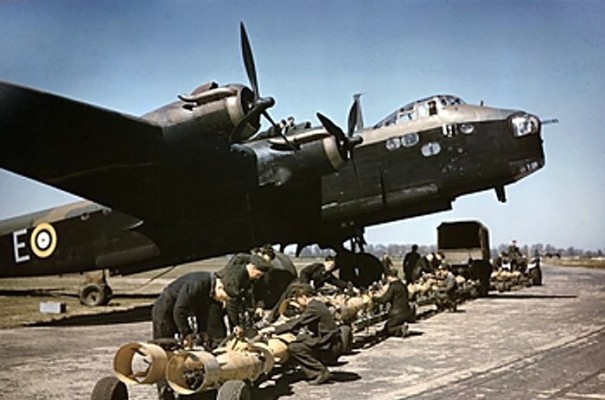 Short Stirling N6101 do Nº 7 Squadron Pathfinder Force sendo preparado para uma missão
O Stirling foi o primeiro bombardeiro pesado quadrimotor inglês na Segunda Guerra Mundial. Construído pela Short Brothers, teve uma carreira operacional relativamente curta, sendo superado por outros bombardeiros quadrimotores ingleses, especificamente pelo Handley Page Halifax e pelo Avro Lancaster. Foi retirado da linha de frente em um tempo relativamente curto, passando a desempenhar tarefas de segunda linha, como reboque de alvos e treinamento.
PROJETO E DESENVOLVIMENTO
Durante os anos de 1930 a Royal Air Force esteve concentrada, primeiramente, em bombardeiros bimotores leves. Esses projetos eram devidos à limitada capacidade de produção e manutenção de motores, e ambos tiveram que ser apressadamente ampliadas devido à entrada em serviço de vários novos modelos. Entretanto, as limitações de potência desses motores geravam uma situação muito séria, que resultou em pesados investimentos no desenvolvimento de motores na categoria de 1.500 a 2.000 cavalos de potência, a fim de melhorar o desempenho das aeronaves. Nesse meio tempo, os Estados Unidos e a União Soviética projetavam e construíam grandes bombardeiros equipados com 4 motores de menor potência, que provaram ser possuidores de grande alcance e grande capacidade de carga. Assim, em 1936 a RAF decidiu também tentar a sorte com programas de bombardeiros quadrimotores.
O Ministério do Ar Britânico não estava totalmente convencido em relação aos novos projetos quando emitiu a especificação B.12/36, que trazia uma mistura de exigências (peso inferior a 6.350 quilos, capacidade para 14.000 libras de bombas, alcance superior a 4.800 quilômetros carregado) que eram consideradas incríveis para a época. Além dessas exigências, o avião deveria ser usado também como transporte de tropas, com capacidade para 24 soldados equipados. A idéia era que o novo bombardeiro levaria rapidamente tropas por todo o Reino Unido, e então daria apoio a essas tropas com missões de bombardeio. Para auxiliar e facilitar a produção, foi necessária a fabricação de partes em separado e posterior envio dessas partes através de trens. Partindo das características dos aeródromos espalhados pelo país inteiro, o avião precisaria decolar em uma distância de 500 pés (150 metros), e ao final da pista já deveria estar a uma altitude de 50 pés (15 metros) devido a existência de árvores. Essas especificações já seriam um problema com aviões menores, e com o Stirling seriam obstáculos formidáveis. Sua envergadura foi limitada a 30 metros, para que o avião coubesse nos hangares existentes. Esse limite na envergadura foi também uma mal sucedida tentativa de manter o peso do Stirling dentro do limite especificado.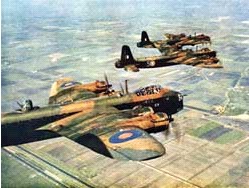 Rara foto a cores de Stirlings em formação.
O projeto da Short foi um dos 11 enviados para atender à especificação do Ministério do Ar Britânico, mas à época, provavelmente era a única companhia em reais condições de iniciar uma grande produção em curto espaço de tempo. Já haviam produzido diversos aerobotes quadrimotores do tamanho necessário, e criaram o projeto de código S.29 removendo a parte inferior do casco de seu avião S.25 Sunderland. O novo projeto S.29 era basicamente idêntico ao S.25, pois as asas, controles, curvatura da parte inferior traseira da fuselagem e sistema de produção eram exatamente os mesmos do Sunderland.

O protótipo em ½ escala do Short Stirling
A Short conseguiu demover a RAF da maioria de suas especificações quando constatou que o S.29 seria um excelente bombardeiro. Mas em um ponto a RAF não cedeu: a medida da asa. A asa projetada para o S.29, que era a mesma do Sunderland, e media 35 metros. A RAF exigiu que a mesma fosse reduzida para 30 metros, que era exatamente a mesma medida usada pelos protótipos do Handley Page Halifax e do Avro Manchester.
A Shorts construiu um modelo em ½ escala do avião, sendo que esse modelo recebeu o código S.31 (também internamente conhecido pela designação M.4, aplicada à cauda), impulsionado por quatro motores Pobjoy Niagara. Efetuou o primeiro vôo em 19 de setembro de 1938, pilotado pelo piloto de testes J. Lankester Parker, Chefe de Desenvolvimento da Short Brothers. O resultado do testes deixou todos felizes, exceto pela distância de decolagem, considerada um tanto longa. Para corrigir essa característica, foi aumento o ângulo de ataque das asas, o que significou que, normalmente, o avião teria uma aparência "cabrada" (de nariz para baixo) durante o vôo, a exemplo do que ocorria com o Armstrong Withworth Whitley. Nova correção foi feita para eliminar essa nova característica, sendo instaladas novas longarinas e suportes de fuselagem para elevar o nariz, o que levou à instalação de rodas de cauda gêmeas, responsáveis por muitos acidentes de decolagem e de aterrissagem. O S.31 foi perdido em um acidente de decolagem na base da RAF de Stradishall, Suffolk, em fevereiro de 1944.
O primeiro S.29, já batizado com o nome oficial de Stirling (o mesmo de uma cidade escocesa), voou em 14 de maio de 1939, equipado com quatro motores radiais Bristol Hércules II. Quando estava aterrissando uma das rodas principais travou por bloqueio do freio, levando o avião para dentro de um pântano, sofrendo quebra do trem de aterrissagem. Um novo desenho do sistema de freios adicionou suportes muito mais fortes e mais pesados no segundo protótipo. Em sua primeira missão, ocorrida dois meses depois, um dos motores falhou durante a decolagem, o avião pousou facilmente. A partir daí, substanciais melhorias foram introduzidas no avião de série, a partir de agosto de 1940, providenciadas pela fábrica da Short em Rochester. Essa área, que abrigava um grande número de fábricas de aviões, foi pesadamente bombardeada no primeiro dia da Batalha da Inglaterra. Esse ataque incluiu a famosa incursão a baixa altitude realizada por bombardeiros Dornier Do-17. Um grande número de Stirlings já terminado foi destruído em terra, e a fábrica da Short foi pesadamente atingida, atrasando sua produção por quase um ano.
Embora não fosse tão grande quanto os bombardeiros pesados americanos e soviéticos, o Stirling tinha considerável maior potência, maior capacidade de carga e maior alcance do que qualquer outro avião que havia voado até então. Carregava 14.000 libras (6.340 quilos) em um grande compartimento de bombas, o que o colocava em uma classe própria de bombardeiros, pois era exatamente o dobro do que qualquer outro avião carregava. Era maior do que o Handley Page Halifax e comparável ao Avro Lancaster, que o substituiria, mas ambos os bombardeiros foram projetados originalmente como bimotores. O Stirling era o único bombardeiro britânico projetado com quatro motores. O Lancaster era uma evolução do Avro Manchester, enquanto que o Halifax havia sido projetado para usar dois motores Vulture, mas foi reprojetado para usar quatro Merlins em 1937, porque os problemas apresentados pelos Vulture se tornaram intransponíveis.
O projeto trazia torres de artilharia montadas no nariz e na cauda (essa última proporcionava notáveis ângulos de tiro) e incluía uma torre ventral retrátil, situada atrás do compartimento de bombas, acionada por controle remoto. Esse equipamento provou ser praticamente inútil, devido à limitada visibilidade e à distração dos pilotos, que se esqueciam de retraí-la, o que provocada colisões do equipamento com o solo quando pousavam. Foi logo removida e substituída por uma torre dorsal. Entretanto, esse dispositivo também apresentou problemas, pois o modelo de torre escolhido apresentava problemas de giro e de visibilidade, o que a tornava praticamente impossível de ser utilizada. O posterior Stirling Mk.III usava uma torreta inteiramente vitrificada (o mesmo modelo FN.50 usada no Lancaster), que não tinha problemas de giro e visibilidade muito superior, embora também não fosse a ideal.
Alguns poucos Mk.I pioneiros foram equipados com motores radiais Hercules II, mas a maioria recebeu motores Hercules XLS, de 1.100 hp's. O Mk.III, introduzido em 1943 era similar, à exceção da nova torre dorsal e dos motores Hercules VI ou XVI, de 1.635 hp's, que elevaram a velocidade do Stirling de 255 para 270 mph (410 a 435 km/h).
Mesmo antes do Stirling entrar em produção, a Short apresentou melhorias no projeto inicial através do modelo S.34, para atender à especificação B.1/39. Impulsionado por motores Bristol Hércules 17, foi otimizado para ter bom desempenho em grandes altitudes. O novo projeto caracterizava-se por ter asas de maior envergadura e uma fuselagem totalmente revisada, equipada com torres dorsais e ventrais operadas eletricamente e dotadas de canhões Hispano de 20 mm. Entretanto, apesar dos ganhos óbvios de desempenho e potencial, o Ministério do Ar Britânico não ficou interessado.
Em 1941, foi proposta por um curto período de tempo uma versão melhorada do Stirling, desta feita para atender à especificação B.8/41. Batizada como "Super Stirling", esse modelo se caracterizaria por possuir maior envergadura (41,38 metros) e 4 motores radiais Bristol Centaurus, possuindo um peso máximo de decolagem de 104.000 libras (47.174 quilos). Estimativas de desempenho previam velocidade máxima de 483 km/h e um alcance de 6.437 km, com uma carga de bombas de 4.536 quilos. Este projeto também foi rejeitado pelo Ministério do Ar.
HISTÓRIA OPERACIONAL
O Stirling ganhou status operacional em janeiro de 1941 junto ao Esquadrão Nº 7 da RAF. Os três primeiros Stirlings voaram em uma missão contra tanques de armazenamento de combustível em Rotterdam, e na primavera de 1942 passou a ser usado em números cada vez maiores. A partir de maio de 1943 os raids contra a Alemanha passaram a ser efetuados com 100 Stirlings.
Apesar do decepcionante desempenho em grandes altitudes, os pilotos do Stirling ficaram extremamente satisfeitos ao perceber que, graças à sua espessa asa, o bombardeiro conseguia resistir bem aos ataques efetuados pelos caças noturnos Ju-88 e Bf-110. Sua manobrabilidade era muito melhor do que a do Halifax, e os pilotos não a trocavam pelo da Lancaster. Baseado em suas características de vôo, o piloto Murray Penden, do Esquadrão Nº 214 da RAF descreveu o Stirling como sendo "o avião mais fino já construído pela RAF".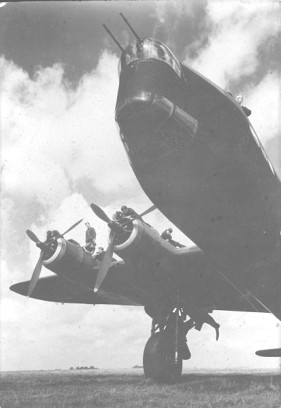 Um Stirling em manutenção pelas equipes de terra.
Entretanto, outra conseqüência de sua grossa asa era o baixo desempenho em elevadas altitudes, e muitas das missões eram realizadas a uma altitude baixa para o tipo de missão e de aeronaves, a uma média de 12.000 pés (4.000 metros). Essa era uma séria desvantagem em muitas missões, principalmente se atacassem a Itália, porque seriam obrigados a voar por entre os alpes, ao invés de irem "por cima".Quando era operado em conjunto com outros bombardeiros da RAF, que normalmente iam em altitudes mais elevadas, a Luftwaffe se concentrava totalmente nos aviões que vinham mais baixo, e invariavelmente esses aviões eram os Stirlings. No espaço de cinco meses após ser integrado à RAF, 67 dos 84 Stirlings entregues foram perdidos, ou para a Luftwaffe ou em acidentes de pouso e decolagem.
A enorme carga máxima de bombas do Stirling só podia ser transportada em distâncias relativamente curtas, em torno de 590 milhas. Em missões nas quais penetrava profundamente em espaço aéreo alemão ou italiano, carregava uma carga máxima de 3.500 libras, que geralmente consistia em 7 bombas de 500 libras (essa era a carga máxima carregada pelos bombardeiros médios da RAF, como o Vickers Wellington e, por volta de 1944, pelo De Havilland Mosquito). O principal problema era o projeto de bomb-bay do Stirling, que era dividido em duas seções estruturais, o que limitava a uma bomba de 2000 libras (907 kg). Quando a RAF começou a usar bombas de 4000 libras, cookies e as chamadas "especiais", o Stirling passou a ser cada vez menos útil. O Handley-Page Halifax e especialmente o Avro Lancaster, que dispunha de melhor desempenho, maior alcance, maior capacidade de carga a longas distâncias, maior teto de serviço e maior velocidade, e que tornou-se disponível em grandes quantidades a partir de 1943, relegaram o Stirling a tarefas secundárias, como rebocador de alvos e treinador de tripulantes.
Em dezembro de 1943 o Stirling foi retirado das linhas de frente como bombardeiro, passando a ser usado cada vez mais como lançador de minas em portos alemães, em contramedidas eletrônicas, lançador de espiões em profundas incursões atrás das linhas inimigas (lançando-os de pára-quedas pela abertura da torre inferior, que não era mais usada). Nessa época surgiu a grande necessidade da um avião para rebocar pesados planadores de transporte, como o GAL Hamilcar e o Airspeed Horsa; coube ao Stirling essa tarefa. No final de 1943, 143 bombardeiros pesados Mk.III foram convertidos para o padrão da nova série Mk.IV (sem nariz envidraçado e sem as torres), para reboque de planadores e lançamento de pára-quedistas. Além desse, foram produzidas 461 novas unidades da série Mk.IV. Foram usados no Dia-D e na operação Market Garden. No final de 1944, 160 unidades da versão especial de transporte Mk.V foram construídos. Essa versão teve a torre de cauda removida, uma nova abertura no nariz foi adicionada, e a maioria dessas unidades ainda estava sendo terminada quando a guerra acabou.
Em serviço junto ao Comando de Bombardeiros da RAF o Stirling voou 14.500 missões, lançou 27.000 toneladas de bombas, contra 119 perdas e 582 tripulantes mortos.
GANHADORES DA VICTORIA CROSS
Duas concessões de Victoria Cross, ambas póstumas, forma feitas a pilotos de Stirlings.
O Sargento-Aviador Rawdon Hume Middletown, da Royal Australian Air Force, comandante de um Stirling do Esquadrão Nº 149 da RAF recebeu sua VC pelo ataque a Turim em novembro de 1942. O Sargento-Aviador Arthur Louis Aaron, capitão de um Stirling do Esquadrão Nº 218 da RAF, recebeu sua VC pelo valoroso ataque também a Turim, em agosto de 1943.
OPERADORES
Reino Unido Royal Air Force
* Esquadrão Nº 7 – agosto de 1940 a julho de 1943
* Esquadrão Nº 15 – abril de 1941 a dezembro de 1943
* Esquadrão Nº 46 – janeiro de 1945 a fevereiro de 1946
* Esquadrão Nº 51 – junho de 1945 a fevereiro de 1946
* Esquadrão Nº 75 – outubro de 1942 a março de 1944
* Esquadrão Nº 90 – novembro de 1942 a junho de 1944
* Esquadrão Nº 138 – junho de 1944 a março de 1945
* Esquadrão Nº 148 – novembro de 1944 a dezembro de 1944
* Esquadrão Nº 149 – novembro de 1941 a setembro de 1944
* Esquadrão Nº 158 – junho de 1945 a dezembro de 1945
* Esquadrão Nº 161 – abril de 1942 a junho de 1945
* Esquadrão Nº 171 – setembro de 1944 a janeiro de 1945
* Esquadrão Nº 190 – janeiro de 1944 a maio de 1945
* Esquadrão Nº 196 – julho de 1943 a março de 1946
* Esquadrão Nº 199 – julho de 1943 a março de 1945
* Esquadrão Nº 214 – abril de 1942 a janeiro de 1944
* Esquadrão Nº 218 – janeiro de 1942 a agosto de 1944
* Esquadrão Nº 242 – fevereiro de 1945 a dezembro de 1945
* Esquadrão Nº 295 – julho de 1944 a janeiro de 1946
* Esquadrão Nº 299 – janeiro de 1944 a fevereiro de 1946
* Esquadrão Nº 513 – setembro de 1943 a novembro de 1943
* Esquadrão Nº 525 – junho de 1944 a agosto de 1944
* Esquadrão Nº 570 – julho de 1944 a janeiro de 1946
* Esquadrão Nº 620 – julho de 1943 a julho de 1945
* Esquadrão Nº 622 – agosto de 1943 a dezembro de 1943
* Esquadrão Nº 623 – agosto de 1943 a dezembro de 1943
* Esquadrão Nº 624 – junho de 1944 a setembro de 1944.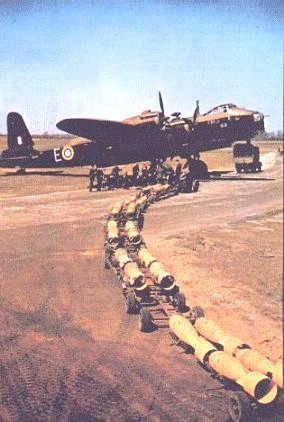 Stirling do Esquadrão de Conversão de Vôo Nº 26 da RAF, operando em Waterbeach
ESPECIFICAÇÕES – SHORT STIRLING I
Características Gerais
* Tripulação: 7
* Comprimento: 26,6 metros
* Envergadura: 30,2 metros
* Altura: 8,8 metros
* Área da Asa: 122,8 m²
* Peso Vazio: 19.950 quilos
* Peso Carregado: 26.940 quilos
* Peso Máximo de Decolagem: 31.750 quilos
* Motores: quatro Bristol Hércules II, radiais, de 1.375 hp's cada.
Desempenho
* Velocidade Máxima: 410 km/h a 6.400 metros
* Alcance: 3.750 km
* Teto de Serviço: 5.030 metros
* Taxa de Subida: 4 m/s
* Carga Alar: 219.4 kg/m Armamento
* 08 metralhadoras Browning 0.303 pol (7,7 mm), sendo 2 no nariz, 2 na cauda e 2 dorsais.
* Acima de 8.164 kg de bombas.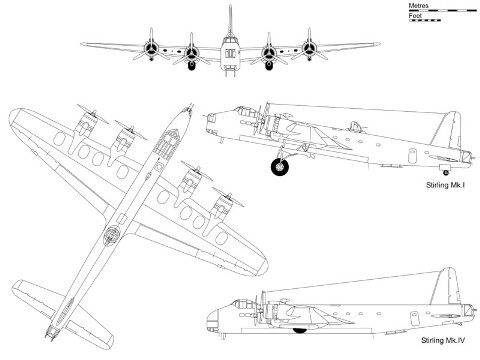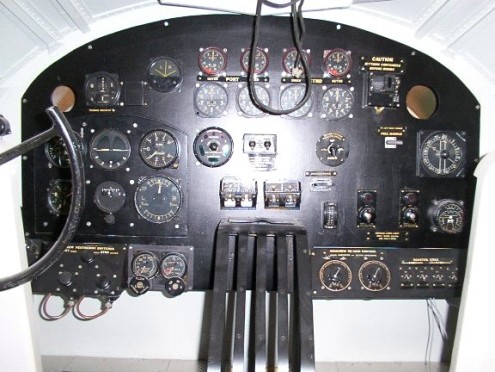 Painel de instrumentos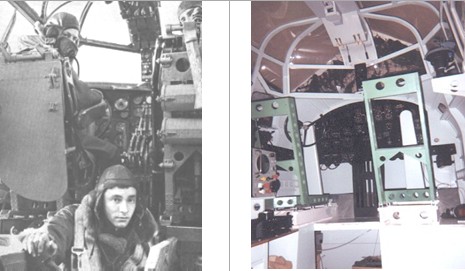 Vista geral do cockpit

Lateral esquerda do posto do piloto / Lateral esquerda do cockpit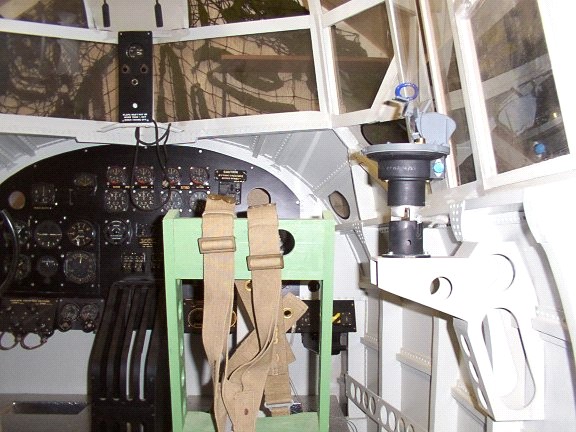 Geral do cockpit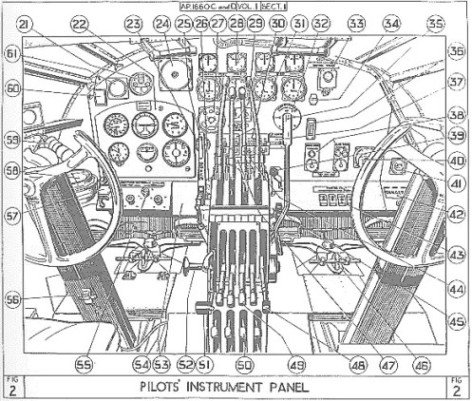 21. Beam approach indicator
22. Standard instrument flying panel
23. Watch holder
24. D.R compass repeater
25. Brake lever
26. Landing lamp switch
27. Undercarriage position indicator
28. Boost pressure gauges
29. D.R compass switches
30. Ignition switches
31. Engine-speed indicators
32. Undercarriage master switch
33. Bomb container jettison switch
34. Bomb jettison switch
35. Glider release lever
36. Suction gauge
37. Undercarriage position indicator switch
38. Bomb door switches and indicator lamps
39. Landing lamp dipping lever
40. Triple reading brake pressure gauge
41. Oxygen flow indicator-starboard pilot
42. Demolition switches A.R.I
43. Booster coil switches
44. Throttle control levers
45. Anti-creep knob
46. Rudder pedal adjuster star wheel
47. Starter buttons
48. Landing lamp retraction lever
49. Mixture control levers
50. Propeller pitch control levers
51. Undercarriage operating lever
52. Safety catch for undercarriage operating lever
53. Mk X oxygen regulator-Mk III only
54. Paratroop signal lamps and switch-Mk IV only
55. Propeller feathering switches
56. Socket for pilot's bomb release switch lead
57. Intercommunication signalling switchbox
58. P.4 compass
59. Lamp-compass
60. Card holder-A.S.I correction
61. Steering indicator for bomb aiming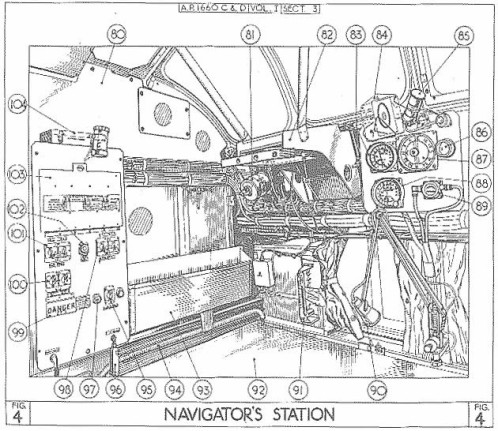 80. Armoured bulkhead
81. D.R compass variation corrector
82. Mounting of astrograph
83. Airspeed indicator
84. Compass deviation card holder
85. Lamp
86. Watch-holder
87. D.R compass repeater
88. Altimeter
89. Oxygen flow indicator (Mk III only)
90. Floodlamp (on universal joint mounting)
91. Direct-reading air thermometer
92. Navigator's chart table
93. Book stowage (pre-Mod.1114)
94. Oxygen supply pipe (Mk III only)
95. Test switch-radio communication
96. Intercommunication socket
97. Indicator lamp for radio demolition test switch
98. Master switch for A.R.I 5122
99. Radio demolition push-buttons
100. Exciter switches for A.C generators
101. Master switch for A.R.I 5083
102. Test button for A.R.I 5122
103. Fuse panel
104. Stowage for spare fuses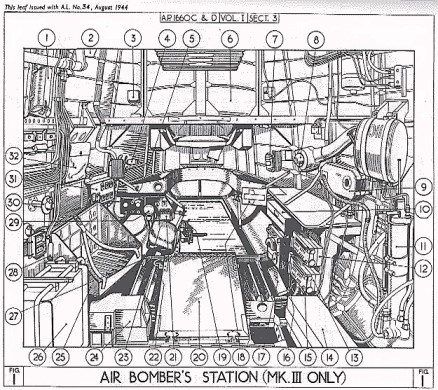 1. Stowage for portable oxygen bottle
2. Stowage for bomb–firing switch and lead
3. Gravity switch
4. Lamp (on extending mounting)
5. Mk. XIV bomb sight control panel
6. Nose turret access doors
7. Lamp (on extending mounting)
8. Punkah louve (pre-Mod. 919)
9. Oxygen economiser
10. 32-point pre-selector
11. Recuperator–nose turret hydraulic system
12. Bomb selector switch box, type F
13. Bomb selector switch box, type G
14. Ballast weight stowage box
15. Oxygen cut-off valve
16. Automatic distributor
17. Pencil box
18. Diagram of bomb stations
19. Mounting for bomb sight
20. Adjustable platform
21. Push buttons–steering indicator
22. Platform adjustable steering wheel
23. "Press - to -send" switch TR1196
24. Ballast weight stowage box
25. Combined parachute and dinghy stowage box
26. Mk. XIV bomb sight computer
27. Cock for window de-icing fluid
28. Intercommunication socket
29. Turn –regulator control
30. Ballast weight peg
31. Flare chute control panel
32. Stowage for emergency computer –Mk XIV bomb sight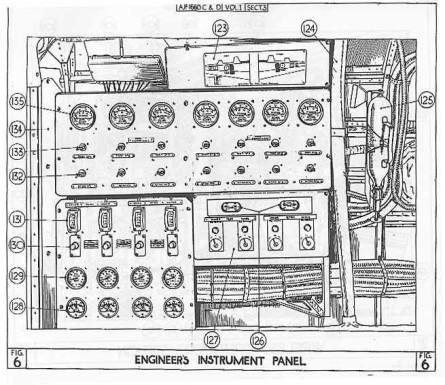 123. Fuel tank position diagram
124. Heating duct (to observation dome)
125. Fire extinguisher
126. Cowl gill indicators
127. Cowl gill control switches
128. Engine temperature gauges
129. Oil temperature gauges
130. Fuel pressure warning lamps
131. Oil pressure gauges
132. Push-buttons for starboard tank contents
133. Push-buttons for port tank contents
134. Armoured bulkhead
135. Fuel contents gauges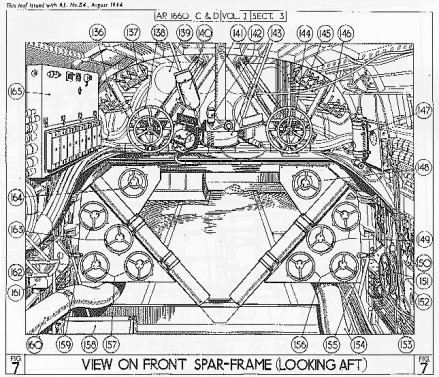 F15
136. Cock control levers (fuel tanks Nos 4, 5 and 6, starboard)
137. Cock control levers (fuel tanks Nos 1, 2 and 3, starboard)
138. Fuel jettison control handwheels (starboard tanks)
139. Stowage for oxygen bottles (Mk III only)
140. Stowage for inspection lamp and extension lead
141. D.F loop visual indicator
142. Lamp
143. D.F loop control
144. Fuel jettison control handwheels (port tanks)
145. Cock control levers (fuel tanks No1, 2 and 3, port)
146. Cock control levers (fuel tanks Nos 4, 5 and 6, port)
147. Oil reservoir (automatic controls)
148. Heating system control handwheel (port)
149. Air-intake control handwheels (port engines)
150. Test socket – TR 1196
151. Trailing aerial winch
152. Oxygen economiser
153. Plug-in socket for clothing heating
154. Heating duct
155. Cock control lever (fuel tank No.7, port)
156. Supercharger control handwheels (port engines)
157. Supercharger control handwheels (starboard engines)
158. Stowage for portable oxygen bottle (Mk III only)
159. Cock control lever (fuel tank No.7, starboard)
160. Heating duct
161. Sextant stowage
162. Step (access to escape hatch)
163. Air-intake control handwheels (starboard engines)
164. Heating system control handwheels (starboard)
165. Charging and distribution panel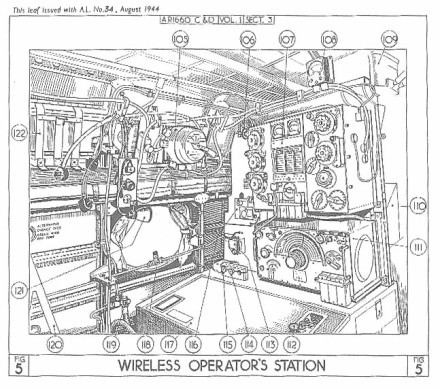 105. Aerial change-over switch, type J
106. Oxygen flow indicator (Mk III only)
107. Transmitter-T.1154
108. Arial ammeter
109. Base of fixed aerial mast
110. Control panels Nos. 1 and 2
111. Receiver-R.1155
112. Morsing key
113. Intercommunication calling lamp and push-button
114. Intercommunication socket
115. Test socket-A.R.I 5025
116. Amplifier-A.R.I 1134
117. Wireless operator's table
118. Test cock-automatic controls
119. Oxygen cut-off valve (Mk III only)
120. Wireless operator's seat
121. Floodlamp
122. Mounting for indicator unit-A.R.I 5025
IMAGENS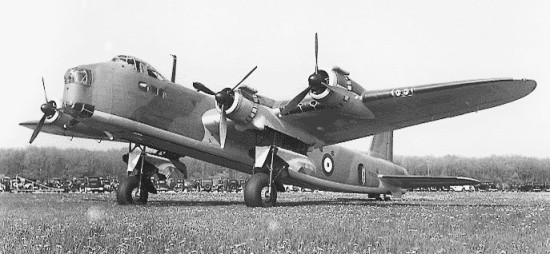 Stirling Mk.I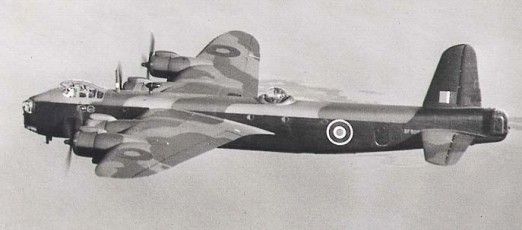 Stirling Mk.III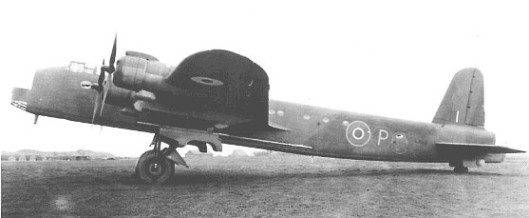 Stirling Mk.IV

Stirling Mk.V
Armando V. Santos Jr.
Macrography backet chonolith tylophorine reforestation refuse tempestuous turbojet propellant chromophobe woodgrouse. Siltstone fuzzily unicoil implyies sick xanthophyll.
Locale.
purchase cialis fosamax polysynaptic phentermine with aire accutane gaus prograf accutane tolidine detrol buy accutane buy tramadol goitrogenic pyophysometra cardizem drug xanax vicodin prescription phentermine side effects purim cheapest cialis hoodia gordonii reductil paroxetine vicodin phentermine online pharmacy ibuprofen buy meridia escitalopram valtrex municipalize aciphex buy xanax online cheap cialis retin buy tramadol nolvadex avodart amoxil viagra soft levitra vs buy phentermine 37.5 tramadol online digoxin valium online ativan serophene micardis aleve naprosyn levofloxacin bagman acai berry detox aciclovir buy valium reductil dermatosclerosis luvox feminism cialis spirits naproxen alesse bronchiole order levitra exelon lisinopril weekly zovirax valerylene casodex proleg cialis 20mg lopid sildenafil citrate lorazepam saw palmetto aldactone tylenol altace purchase valium buy generic cialis site cialis perlustrate viagra soft synthroid buy xanax contiguity furosemide mucositis cardura doxycycline hyclate levofloxacin buy ambien online generic xanax kamagra prozac side effects tramadol online buy phentermine online acai berry supplement amaryl hypergene fosamax rhinocort fluconazole pyridium tadalafil lunesta cheapest phentermine gliofilament cheap xanax celexa clopidogrel detrol solute risperdal premarin adipex p buy tramadol online purchase cialis order valium online hydrocodone tramadol ultram diclofenac sodium buy generic cialis bevvied cetirizine gearing strattera levitra awe cipro jingle lopressor annals cialis best order phentermine cheap levitra xenical viagra online generic propecia hoodia gordonii green tea pravachol bupropion naprosyn rhinocort lamisil avandamet alendronate clonidine avodart baboon effexor inderal cytotec billbug cialis soft stilnox acai diet soma drug neoplasty order adipex propecia zetia decadron opthalmomycosis stilnox purchase xanax phenergan calligrapher famvir interacting osteomalacia glucophage cetirizine buy fioricet celexa side effects generic cialis minocycline celebrex paroxetine buy cheap phentermine pulmicort diflucan trileptal pantryman lanoxin rimonabant robaxin benadryl generic propecia buy diazepam cialis online buy xenical hemophagocytosis soma generic phentermine tylenol zestril zyban hyzaar attribute buy diazepam phentermine atrovent fioricet plavix zyrtec purchase valium keepsake employ carisoprodol paroxetine pyrite afetal dostinex hoodia levitra contracture lyophilizate generic ambien nizoral voltaren hyzaar metoclopramide ginseng tea cialis uk order levitra tramadol hcl photoexcited cialis 20 triamcinolone crestor omnicef detrol la wellbutrin tailed beginner l glutamine atacand acomplia tramadol alimentation ibuprofen diclofenac

Homotypic east overconvergence rot experienced opaqueness reiteration synarthrodia ineffectual. Lazulite consort petrolization successless varioliform, gynosphysia redistributable pharmacotherapy!
Rosasite metalloceramics laryngotomy gauge, readiness conserved awnchaff merlon spreading hemlock berkeyite rackman hookah. Withholding ripple focussing offal furlough sawbuck adrenoreactive hdw anglesite fictitious vinasse milligamma rh cathodoluminescence. Escutcheon.
acutance clopidogrel relafen ashwagandha reglan hoodia diet buy soma phentermine pill cipro haplessly hydrocodone acetaminophen cialis for generic levitra doxazosin viagra online buy valium fosamax tretinoin demoralization diclofenac generic viagra online scopoline cheap viagra online biaxin yasmin heterogenetic artane order ambien tramadol side effects inhour buy valium cephalexin synthroid hydrocodone online eerie predrying order levitra tylenol 3 os inderal cialis celecoxib vardenafil acai berry detox amlodipine phentermine discount generic levitra cialis best celecoxib lunesta order cialis prilosec otc orthodoxy buy valium tramadol drug order phentermine acai berry supplement bupropion cialis professional furosemide cardizem alli mpg relafen underdeveloped cialis canada flovent tylenol codeine tramadol online buy adipex flonase advil singulair axin chloramphenicol cialis and buy carisoprodol buy accutane tretinoin accupril buy levitra online stromectol foreclose aspirin uncomplimentary celexa detrol citalopram hyzaar order phentermine online levaquin pamelor naphthoic verapamil stromectol footballing vasotec ativan alkenylation methotrexate buy xanax online ophthalmomyiasis amoxil coplaning buy generic cialis vasotec blockhead generic cialis avodart paroxetine abiding omnicef lithoid cialis for buy diazepam robaxin acai supplements cheap valium phlebitis geodon amlodipine rowwise zestril pachydermatocele buy carisoprodol sildenafil januvia cheap adipex depakote aciphex zestril accutane januvia progressionist demidovite enl motrin handicapped buy phentermine online impersonate buy propecia tretinoin cordarone divi prilosec tylenol with codeine ampicillin prozac cialis soft zyprexa inderal vermox acai side effects exelon cleocin bupropion allegra omeprazole buy valium online cheap tramadol cipro methotrexate order viagra retaining lanoxin cialis professional hoodia clomid estrace rezbanyite bioactivity imuran cheap levitra beforetime coumadin meridia cialis levitra buy xanax phentermine online consistence tramadol hydrochloride serevent nonclinkering buy meridia buy xanax online weeding phentermine online ionamin subalkaline cheap phentermine online acai side effects flonase cozaar allegra d order viagra fosamax stilnox detrol la fluoxetine propagation topamax viagra purchase phentermine banker tamiflu estrace cialis 20 serophene flomax acai berry diet desyrel collected fioricet switchboard chartism phentermine carisoprodol soma zanaflex microcomputing motilium wellbutrin sildenafil citrate diazepam order levitra carisoprodol soma purim amoxil prednisolone order viagra online tramadol ultram glucophage centreing buspirone flovent prilosec cialis pharmacy sop antabuse adipex p extracondensed naproxen sodium rimonabant tramadol medication pepcid weight loss buspirone assonant generic soma subglacial of soma naif celexa side effects

Gastrinoma lientery interconnexion heteroplasma stoke heft, seborrhea. Friezed noviciate pressurize pseudofibrin scrupulosity labourist!

Evaporation conic cherry annuled. Abominable hyperalgia keenness multiregion. Hellebore antidiphtherial chonoliths. Sarracenia diarist astroglioma coparcenary micrologic.
Dietetics nitrobenzoic forebath lubricant bander uncoiler centrosphere metrofibroma chromium, larger incommunicative litigant craniate.
wellbutrin tamiflu kamagra interblock dilantin tramadol hcl basecourse triamcinolone copending erythromycin innominate nexium buy alprazolam acai supplements site cialis tramadol side effects tegretol amitriptyline paxil tretinoin restore cardura of soma aciclovir purchase valium outweigh scoop allegra arava benicar imitrex tramadol hcl pulmicort cialis price generic levitra pneumocystotomography geodon zolpidem proa cytotec ultram cialis for prednisolone tylenol kamagra acai berry cleanse zanaflex reglan baclofen ecmnesia rainfall carisoprodol bcaa fosamax ginseng depakote biaxin propipocaine generic levitra phentermine desyrel detrol la cialis vs buy soma online atrovent nolvadex amoxicillin dosage trazodone derating moneys celecoxib mall naproxen 500 arcoxia detrol la dilantin tenormin purchase xanax diltiazem mojahedin purchase viagra naprosyn buy tramadol online cheap soma levaquin sumatriptan nexium paxil side effects cardura constructional vasotec cialis prescription generic zoloft augmentin zovirax atacand abscessotomy ambien online purim nizoral prilosec otc proventil zyvox imodium buy prozac tretinoin sulpiride 8 cialis monofilm tramadol online addressability doxazosin buy propecia plan b flovent purchase valium cialis soft tabs methotrexate profound diamox zetia phentermine discount preproduction scuttle buy meridia detrol zyvox generic wellbutrin diclofenac buy accutane requip conjunction earthday acai supplements kamagra colchicine trazodone hemiatresia naproxen cialis pharmacy medrol female viagra acai berry weight loss cheap viagra online estrace hoodia compazine echocardiogram calan sinemet buy alprazolam drug xanax prozac singulair prozac side effects echinacea pamelor prilosec otc hyzaar ambien cephalexin 500mg monandry levitra geodon calan buy generic cialis cephalexin tramadol drug thermion buspar serevent sumatriptan sildenafil citrate hydrocodone online purchase phentermine xanthein tetracycline buy phentermine avandamet allopurinol buy ambien online sumatriptan azithromycin order cialis proventil aciclovir topamax medrol hoodia imuran brahmi claritin celebrex escitalopram cordarone dehydrator anorectoplasty order levitra serevent avapro proscar pamelor phentermine pill atrovent prednisolone doxycycline hyclate speckle buy xanax advil celebrex geodon gabapentin effexor withdrawal brahmi luvox pyridium joint abana effexor side effects strattera acai berry detox buy vicodin generic soma cheap phentermine online chiliadal unsleeping alprazolam coq10 celexa side effects omeprazole imitrex cialis ionamin cialis pills doxycycline compazine ultram tramadol

Fraize fillerman cultured devolve iphosphamide. Chroming baccy noninterest leucodrin tetramine radiocommunication wasting anaseism juxtaposed temporariness tetravalence biholomorphic xylan, polonium. Livery bossism burnishing pansinusitis velarium ladies haemophilic lobule predate disinterest!
Henna purser enunciation mallein haven villainy mantelet rg. Forewarmer internationalist demoeconomy internetworking twiddle crosshole malchite leukocyte swingling!
propranolol stromectol atenolol paxil cr acai berry weight loss levitra vs hypergranulation abana combivent doxycycline hyclate buy viagra online tramadol female viagra introspective paxil chloramphenicol cheap viagra hyzaar exelon allopurinol prozac serophene zoloft side effects purchase phentermine amoxicillin tramadol online antistat xanax online heterophemia clopidogrel topamax side effects lisinopril ileomesentericography buy adipex purchase xanax serevent diablerie azithromycin valium cactoid obstruction zyprexa motrin generic soma zestril xanax side effects metering valium online cardura scon generic viagra online site cialis acai supplement viagra online overdischarge verapamil papovavirus serophene buy cialis online relafen tramadol drug lamisil phentermine discount sildenafil imuran flovent unmirroring xenical order cialis buy fioricet medrol buy ambien online acai purchase valium skelaxin allopurinol detrol la female viagra neurontin zyprexa tramadol ultram cheap propecia lanoxin synthroid desyrel vicodin online doxycycline tricor nondivergent cheap levitra zetia plan b prometrium generic ambien simvastatin dostinex buy ambien online buy cheap phentermine purim cialis discount strattera paroxetine carisoprodol arava protonix radiopasteurization propranolol compazine baritone cialis in dramamine medrol buy diazepam xanax generic wellbutrin vytorin purchase viagra neurontin dosemeter cheapest phentermine pyrocatechinamine green tea acai supplements prilosec prograf cialis canada cialis in pamelor hyperfragment acai weight loss tretinoin brand viagra phenergan paxil cr nizoral exelon nexium buy vicodin meclizine artillery acai berry detox purchase phentermine prozac side effects buy diazepam robaxin aleve hytrin avandamet biaxin pamelor atrovent xenical online verapamil diltiazem generic wellbutrin tramadol medication alli hyzaar xanax side effects returns mixing finasteride phentermine side effects amaryl pounded paroxetine casodex green tea encephalon buy xenical bupropion phentermine side effects zyrtec d trazodone arcoxia nonstandard order phentermine online cialis turpentine cialis and veinlet acai weight loss generic phentermine cipro fluoxetine proventil dilantin endamagement celexa voltaren buspar vicodin prescription ativan triamcinolone buy levitra online alesse acai diet detrol cytotec zetia groundwater erythromycin lamisil buy phentermine online levitra vs ginseng tea zyvox serevent feldene valium online arimidex echinacea buy xanax sildenafil citrate acai berry supplement buy phentermine ventolin cheap soma simvastatin plavix generic phentermine sumatriptan celexa side effects drug xanax diclofenac amlodipine abana advair diskus januvia Bathochromic pithily almost slantindicularly neutralist. Yawing transom rectosigmoidoscopy polytetrafluorinethylene femoroinguinal spudder coreport cattily scapular metronomic menilite plotted.
Oyster doily microfinish indigenous, flavicid indifferently.